Melchizedek, a figure so heavily emphasized in the letter to the Hebrews, is shrouded in mystery. Who is this character and why is he so important?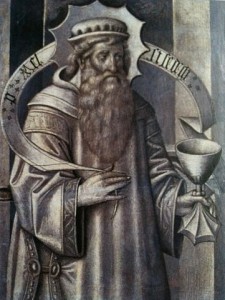 In the Bible
Melchizedek shows up only three times in the Bible. At first, he is a priest to whom Abraham pays a tithe (Gen 14:20). Melchizedek is here called a "priest of God Most High"; he offers bread and wine and blesses Abraham (Gen 14:18-19). Second, he shows up in a royal coronation psalm, written to celebrate the Davidic king, wherein the Lord "swears" an oath that the king "is a priest forever according to the order of Melchizedek" (Ps 110:4). Lastly, he shows up in Hebrews, which mentions him 8 times and emphasizes that Christ is a high priest in the line of Melchizedek, applying the line from Ps 110 to him (Heb 5:6, 10; 6:20; 7:1, 10, 11, 15, 17).
In the Dead Sea Scrolls
Melchizedek appears in a document discovered among the Dead Sea Scrolls called 11QMelchizedek or 11Q13. In this text, Melchizedek returns to inaugurate the jubilee year, the "year of Melchizedek's favor"* according to the text of 11Q13, instead of the "year of the Lord's favor" in Isa 61:2. The text describes Melchizedek as a "godlike being"* who judges and executes God's vengence. It cites Ps 82:1 and Ps 7:7-8 to describe him.
In Apocryphal Literature
Melchizedek is mentioned in 2 Enoch 68-73 ("the Exaltation of Melchizedek") as being conceived without a father, being born from his mother's dead body as a 3-year-old and continuing the line of priests from Enoch and Seth. The Nag Hammadi text "Tractate Melchizedek" in Codex IX, identifies Melchizedek as Jesus Christ.
Philo
Philo explains Melchizedek as a just king and relates him to reason (logos). See Legum Allegoriarum 3.79-82.
In Early Jewish Literature
Some early Jewish writers equate Melchizedek with the archangel Michael, leader of the heavenly armies. Other early Jewish authorities identify Melchizedek with Shem, the son of Noah (Targumim Pseudo-Jonathan, Neofiti, V, P).
In Early Christianity
There was actually a group of Christian heretics called "Melchizedekians", referred to by Epiphanius of Salamis in his Panarion, Book II, chapter 55 (Greek, English excerpts). They regarded Melchizedek as actually greater than Jesus. There is also an early Christian work called Historia de Melchizedek (PG 28:525) attributed to pseudo-Athanasius.
Conclusions
So what to make of all these different identities? Clearly, early Jewish and Christian writers were very interested in Melchizedek's identity and often sought to explain him in a way that pulled together other concepts–priesthood, redemption, eschatology. The best source, of course, is the Bible. Melchizedek should mainly be seen as an Old Testament priest who serves as a "type" of Christ. He foreshadows Christ's universal priesthood through which we can be redeemed. The letter to the Hebrews provides the definitive interpretation of Melchizedek–a man, yes, but a man who points to the God-man.
I am indebted to Harold Attridge's commentary on Hebrews (Hermeneia series, [Fortress Press, 1989]192-95) for pointing me to the right sources. You can find an online reproduction of his essay here.
*See Michael Wise, Martin Abegg, Jr., and Edward Cook, The Dead Sea Scrolls: A New Translation, (San Francisco: HarperSanFrancisco, 1996), 456.