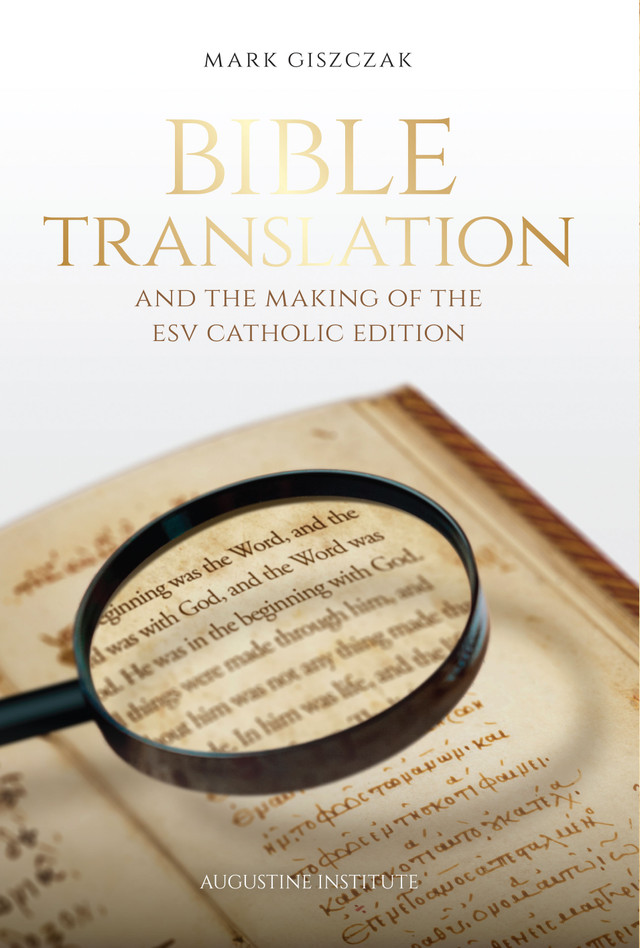 If you have been following my blog the past few years, you might have guessed that I would be writing something official on the ESV Catholic Edition Bible translation. And now I have! This new book, "Bible Translation and the Making of the ESV Catholic Edition," tells the story of where the ESV-CE Bible came from and the translation strategies it employs.
When I first heard that the ESV was coming out in India as a Catholic Edition, I was so happy that we would finally have access to this to translation as a fully approved Catholic version. That Protestants are way out ahead of us Catholics when it comes to options in Bible translations. They have so many! In English, we Catholics have only had access to about three families of translations and it is such a relief to get a new translation out.
Where Did the ESV Come From?
But as soon as I started sharing with people about the ESV Catholic Edition, they started asking me questions:
Why are there so many Bible translations?
What is unique about the ESV-CE?
Who translated it?
What original texts does it rely on?
How is it different from the RSV-CE or other translations?
Since it seemed like I was uniquely situated to respond to these types of questions, as a biblical scholar at the Augustine Institute (the North American publisher of the ESV-CE), I thought I would pen a whole book. So, yes, during the Covid-19 lockdowns which we all remember so clearly, I was reading up and typing away.
Similarity Between Evangelical and Catholic Translation Discussions
My hope was to tell the backstory of the ESV-CE so that people would know where it came from, who translated it and why it was so suitable for adoption by English-speaking Catholic countries. What I found as I researched and read surprised me. It seemed like discussions and controversies that Protestants (specifically, evangelical Protestants) were having about Bible translation mapped on to the debates about translation taking place in Catholic bishops' conferences around the world. Indeed, it seems the bishops are always talking about how to translate the Bible, the liturgy and even the Catechism.
What is in the Book?
In this book, I cover the conversations that preceded the ESV project and the promulgation of the Vatican document on translation, Liturgiam authenticam (2001). The meeting of the minds represented by the ESV translation philosophy and the Vatican's own translation norms is remarkable. To get a sense of the topics that I cover in the book, here is the Table of Contents:
Part I – Origins
Chapter 1 – Why Another Translation?
Chapter 2 – The Catholic Lectionary Problem
Chapter 3 – The King of Bibles and the Toil of Revision
Chapter 4 – Catholic Battles in the Inclusive Language Debate
Chapter 5 – Evangelical Battles in the Inclusive Language Debate
Chapter 6 – How the ESV Came to Be
Part II – Translation
Chapter 7 – Which Text Is Really the Bible?
Chapter 8 – The Case for Essentially Literal Translation
Chapter 9 – A Christian Translation by Design
Chapter 10 – A Christ-Centered Answer to the Inclusive Language Wars
Chapter 11 – Can Evangelicals Produce a Trustworthy Catholic Translation?
Chapter 12 – The Origin and Destiny of the ESV-CE
I hope that gives you a good idea of what I am up to in the book. If you are interested in taking a closer look, you can get the book from catholic.market