When it comes to the Bible, I have never ceased to be amazed at the number of interconnections. So often, one can draw out a web of links from one passage to a thousand others through themes, prophesies, anticipations, foreshadowings. The possibilities are endless! Rather than giving me a sense of unease or haphazardness, these connections continue to inspire me as planned, perfect and beautiful. The more points of contact we find, the more the whole thing hangs together, the more impressive it is. It is like taking apart a Swiss Guard's handsome uniform to realize that it has been sewn together from one hundred and fifty-four pieces![1]
One of those connections starts with an odd hanging question that Isaac asks his father when they are hiking up Mount Moriah: "Where is the lamb for the sacrifice?" (I apologize for starting in the middle of things, but if you need a refresher, check out Genesis 22 where God tests Abraham by asking him to sacrifice his son and then stops him at the last minute.) Essentially, Isaac, the ostensible victim of the imminent sacrifice is a bit concerned about the fact that his dad has all the appropriate sacrificial implements, except one: the all-important sacrificial animal. Isaac even goes through a verbal checklist with his dad, "Fire, check. Wood, check. Lamb, nope!"
Now if you read to the end of the chapter, which you should, you'll find out that at the end of the story, God stops Abraham from sacrificing Isaac and instead provides a ram for sacrifice that had gotten stuck in a nearby bush by its horns. There are a couple juicy exegetical tidbits that can be extracted from Isaac's exchange with his father. Most importantly, it seems that God does not actually fulfill Abraham's prediction. Abraham predicted a lamb, but God provided a ram. So…where's the lamb?? Then, over a millennium later, Jesus walks by the Jordan and a prophet points a bony finger at him and says, "Behold, the Lamb of God!" (John 1:29). It would be very tempting to say that John is referring back to Abraham's prediction that God himself would provide the lamb for sacrifice and since the ancient prediction was never fulfilled in Abraham's life, it is now coming to fruition in Jesus, the ultimate "lamb" of sacrifice.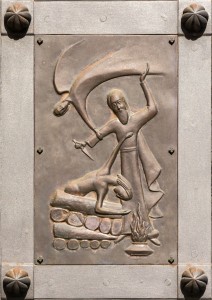 Bear with me, here. I like this line of thinking and it has been adopted by quite a few Christian interpreters,[2] but we have to put the brakes on first and go back to the original language to see if we can really find warrant for this direction. Otherwise, we could end up on an exegetical gangplank.
First, if you go back to the original father-son Q&A, maybe we don't have such a strong contrast between prediction and fulfillment after all. Isaac asks where the sheep (seh) is (Gen 22:7). Seh is the all-purpose word for sheep and goats. It is not very specific. Normally, the word, which appears 47 times in the Hebrew Bible, is translated as "sheep." However, Isaac's question is the first occurrence of the word in the Old Testament and seh can refer to a lamb, as we can see in Lev 5:6-7, where the word seh in v. 7 refers to the lamb previously mentioned in v. 6. In addition, though, it can refer to a young animal when specified as such (see Deut 14:4).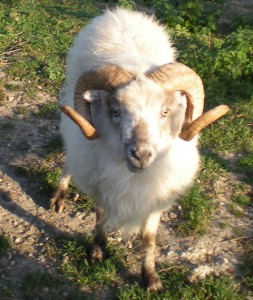 Second, there is another word in Hebrew for lamb, a more specific vocabulary choice: kebes. This word occurs 107 times (or 108 if you include the sole feminine occurrence in Lev 5:6). If Genesis were trying to be very specific about making a distinction between Isaac's question and the seeming fulfillment later in the verse then kebes would be the obvious choice. There's some great online discussion about the terms here.
Third, the term used to describe the animal Abraham finds later in the chapter is ayil. This term is a subset of seh and simply means "ram." So Abraham ends up sacrificing the ayil in place of his son, Isaac, which seems to fulfill his prediction that a seh, sheep, would be provided by God. Abraham himself seems to think his prophecy fulfilled in that he proclaims the place "yhwh-yireh," the Lord provides (Gen 22:14).
So, that brings us back to the original question. Can we say that the promise or prediction Abraham makes is not fulfilled until the time of Jesus? Not really. On the other hand, I think we can say with confidence and faith that the ram caught in the thicket serves as a type of Christ. Rather than being a "throwaway" miracle, the ram itself is significant as a foreshadowing and precursor for Christ. In the same way that the ram took Isaac's place on the altar, Jesus takes our place on the cross. He is the true lamb/seh/ayil who takes our sins upon himself. Like Isaac, we get to go free.
Wait, there's on more exegetical nugget here! In the lead-up to the sacrifice, Abraham tells his servants that he and Isaac "will come again to you," knowing full well that he planned on sacrificing his son on the mountaintop. While you could take this phrase multiple ways—perhaps Abraham was covering for the fact that he would return alone and was planning on making up a story about what happened; or maybe he was doubting his own resolve—some of the Jewish rabbinic tradition saw this phrase as indicating something unheard of: that Isaac would die on the altar and then rise from the dead![3]
Well, there you have it. Abraham not only received the promised land, but he predicted the "promised lamb"—which in one way is the ram stuck in the thicket, but in a bigger more magnificent way is the one Lamb of God who took our sins upon himself, actually being sacrificed on a mountain and, like Abraham expected of Isaac, rising from the dead.
---
[1] http://news.nationalgeographic.com/news/2001/11/1118_vaticanswiss.html
[2] See, for example: https://jewsforjesus.org/publications/blog/ram-or-lamb/
[3] See http://dovbear.blogspot.com/2011/11/more-or-isaacs-resurrection.html or http://www.hebrew4christians.com/Scripture/Parashah/Summaries/Vayera/Akedah/akedah.html
Photo Credits: https://commons.wikimedia.org/wiki/File:Swiss_Guard_near_Basilica_di_San_Pietro.jpg
https://commons.wikimedia.org/wiki/File:Abtei_Seckau_Basilika_%C3%A4u%C3%9Feres_Portal_Abrahams_Opfer.jpg
https://commons.wikimedia.org/wiki/File:Boreray_Ram.jpg