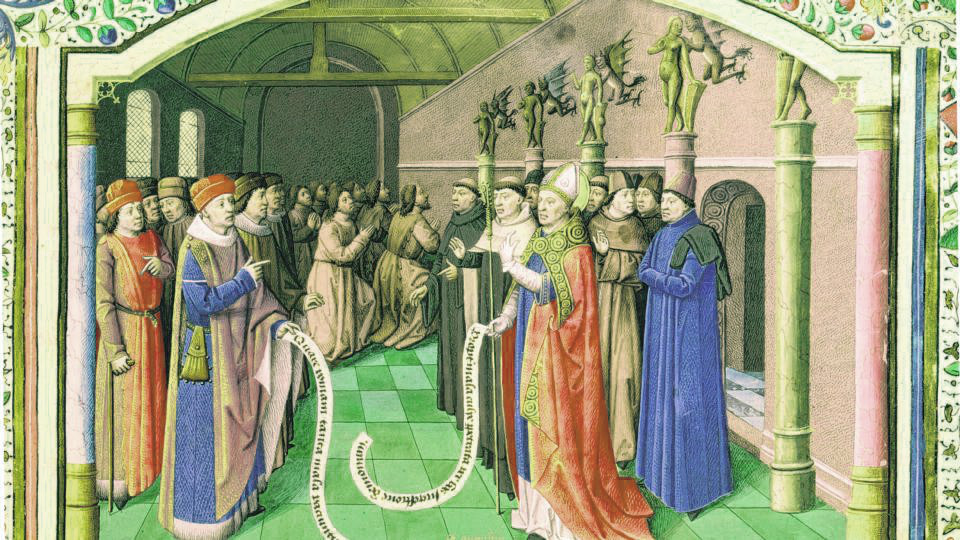 Yesterday, I picked up my copy of Augustine Confessions from the Penguin Classics series, translated by the most splendidly morbid translator, R.S. Pine-Coffin. The cover has a picture of Augustine as bishop taken from a "French illuminated manuscript in the Bibliothèque Nationale" in Paris. What struck me as a little odd, however, were the pillars standing behind the great saint. Each pillar had a human figure on top, with a winged demonic creature behind. So, I asked my colleague, Dr. John Sehorn, "What do these demon figures on pillars mean?" After some digging, he found a good explanation, while I found more versions of our given picture. Unfortunately, none of the online versions of this illuminated page are both complete and high resolution, so I'm including a couple different versions in this post.
The artwork that I saw on the book cover omitted much of the page. In fact, the page actually has two illuminated scenes. Top register include St. Augustine with attendants talking with a pagan. The pagans are saying, "Quare Romani tanta mala paciuntur" or "Why have the Romans endured such great evils?" St. Augustine responds "Propter mala culpe perpetrata per vos sugestione demonum," or "Because of offenses perpetrated by you at the suggestion of demons." This little conversation leads to an explanation of the whole image. On the left hand side, a group of pagans is confronting St. Augustine with a challenge to faith—very similar to challenging questions raised today like "why do bad things happen to good people?" Their question is a bit different, simply, "Why would a just, loving, merciful God such as you proclaim, if he were really all powerful, allow such a great civilization such as Rome be destroyed by the barbarian hoardes?" It is a question that Augustine himself asks in one of his most famous works, The City of God. Augustine's response here is a paraphrase of the book, where his answer is that God is bringing judgment on the sins of Rome. In particular, I think the artist is point to Book II, chapter 26.
This brings us to the background of the image, where we see a bunch of people robed in brown, kneeling down and looking at the figures on pillars. The kneeling people represent the pagans of Rome and the human figures on idols represent the gods of Rome. The demonic whisperers are animating these false gods, like St. Paul teaches "I imply that what pagans sacrifice they offer to demons and not to God" (1 Cor 10:20). Thus the answer to my question is that the winged demons are the spiritual powers behind the false gods of Rome like Saturn, Vesta and Venus.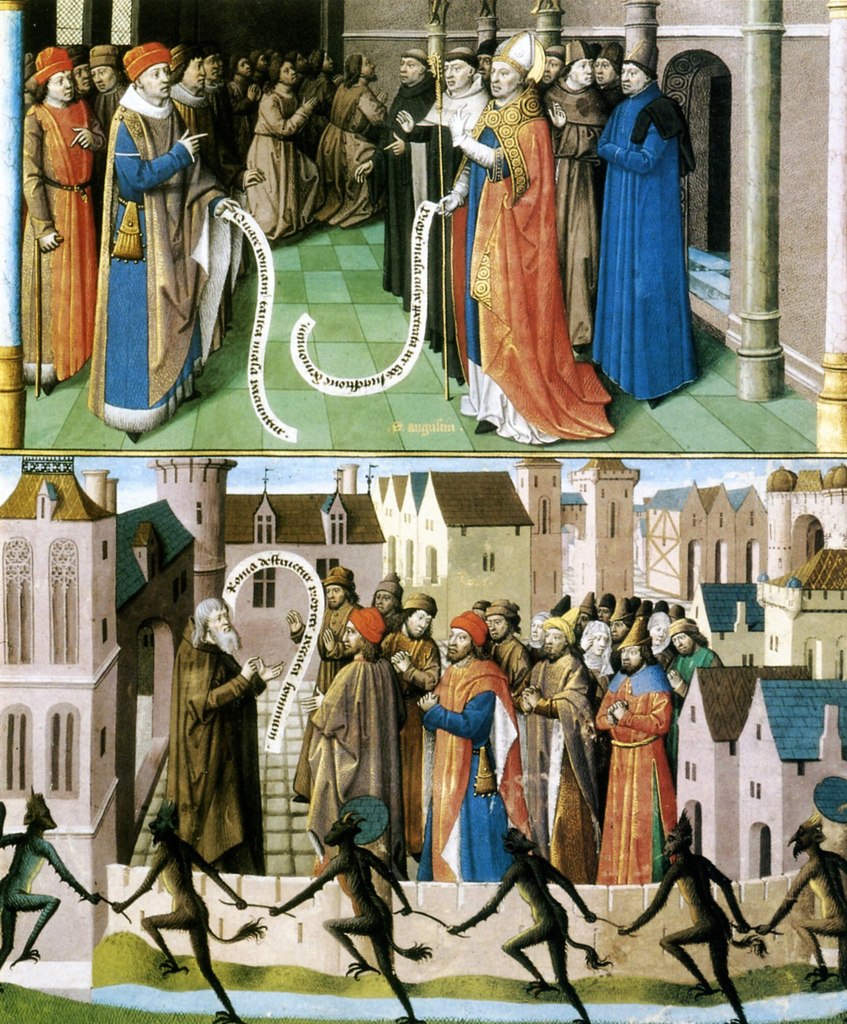 The bottom register depicts St. Orosius, a student of St. Augustine, preaching to the Romans while demons dance around the city. Presumably, the demons represent the evil barbarian forces which are about to overrun the city. The demons are celebrating the downfall of the great city and the spread of chaos. The saint meanwhile is telling the Romans, "Roma destruetur propter peccata hominum," "Rome shall be destroyed because of the sins of men."
In this explanation and even in the transcription of the words, I am relying heavily on Les manuscrits à peintures de la Citè de Dieu de Saint-Augustin by Alexandre Laborde, vol. II (Paris: Société des bibliophiles François, 1853-1944; 1909), pp. 408-409. Here is his text in full:
LIVRE II. – fol. 23. – H. om, 325× om,230. – Saint Augustin et les païens, Orose et les Romains. – Deux registres.

I° Dans une sale spacieuse, aux fenêtres grillagées, dont le sol est recouvert de dalles vertes, des colonnes en marbre de couleur, places contre le mur de droite, soutiennent des idoles qu'assaillant des diables. Dans le fond, un groupe de païens implorent à genoux ces divinités. Au premier plan à gauche, les Romains debout discutent. Le chef du groupe déploie une banderole et s'adresse à saint Augustin: Quare romani tanta mala paciuntur. En face à droite, saint Augustin, en évêque, recouvert d'une dalmatique rouge et suivi de huit ecclésiastiques, répond: Propter mala culpe perpetrata per vos sugestione demonum.

2° Nous sommes à Rome, ville française du xve siècle, aux maisons rouges et jaunes, entourée de murs crénelés que le Tibre, mince filet bleu, baigne de ses eaux. Six diables se tenant par la main deansent au dehors. Sur une place publique, à l'intérieur, un docteur, probablement Orose, barbu et tête nue, vêtu d'une robe brune, s'adresse à un groupe de vingt Romains des deux sexes, richement vêtus et leur dit: Roma destruetur propter peccata hominum.
I don't know if you had the same question as I did when looking at this picture for the first time, but I do think that the illumination does a great job of visually summarizing St. Augustine's argument. Good job, Anonymous Illuminator!