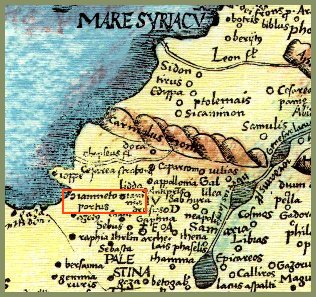 If you ever read anything about the differences between the Protestant and Catholic canon, you will most likely see mention of the Council of Jamnia. At this council, the first century AD Jewish leaders are supposed to have thrown aside the deutero-canonical books (Tobit, Judith, 1 and 2 Maccabees, Baruch, Wisdom, Sirach and parts of Esther and Daniel) as non-Scriptural since they were preserved only in Greek and Aramaic, not in Hebrew.
But what if the Council of Jamnia never happened?
I asked myself this question and went to the Anchor Bible Dictionary to take a look. I found a great article by Jack P. Lewis who explains the intellectual history of the Council of Jamnia hypothesis. Yep, hypothesis! The Council of Jamnia has always been a hypothesis.
Here's the scoop: A German scholar, Heinrich Graetz, introduced the idea in 1871 based on a tiny passage in the Mishnah, m. Yadayim 3:5. Yadayim is one of the last sections in the sixth order (part) of the Mishnah, called Tohorot. Since then, tons of scholars have repeated over and over and over that the exclusion of the deutero-canonical books relies on the Council of Jamnia's decision. But very few scholars go back to Graetz's work and take a look at m. Yad. 3:5. I was curious, so I took a look.
Guess what I found? Nothing. Exactly, nothing.
m. Yad. 3:5 presents a few rabbis' arguments about whether Ecclesiastes and Song of Songs are canonical or not. That is, whether they "render unclean the hands." (If a book is canonical then it "renders unclean the hands.") After a few arguments are presented, then votes are cast and both books are considered canonical. That's it. There is no discussion of the deutero-canonical books. There is no definitive list of the canonical books. There is nothing that indicates they made more decisions. It only presents two sides of an argument over the canonicity of Song of Songs and Ecclesiastes.
So what the heck is going on? Why do people use this tiny passage to make a huge argument when the two have nothing to do with each other? And what happened at Jamnia anyway?
After the Temple was destroyed in 70 AD and before the Bar-Kochba rebellion of 135 AD, Judaism underwent huge changes. There was no Temple, so Judaism had to be re-thought. Some Jewish scholars, scribes, priests, rabbis and theologians lived in Jamnia (a.k.a. Yahvne)–a small coastal town in Judah. They formed an academy of sorts which had theological discussions and began many of the traditions in the Mishnah. They helped re-create Judaism without a Temple. But there was nothing official. They were scholars, not officials. None of them were voted in by other communities. And they did not have a formal system for establishing orthodoxy. They voted on certain things, but were free to disagree. But most importantly, they did not fix or establish a canon of Scriptures. They had a debate over the canonicity of Song of Songs and Ecclesiastes, but we have no record at all of them debating or establishing the canonicity of ANY OTHER BIBLICAL BOOK. There were no official sessions, no formal power. Just scholars trying to rethink Judaism. That's it.
So, yes, Jewish thinkers were gathered at Jamnia, but not for a "Council." They were there for an academy, a school, a community of scholars not a body of official decision makers. And we have no record of them working on the canon except for the two books mentioned above. THEY DID NOT ESTABLISH A CANON. They did not throw out the non-Hebrew books and repetition of the saying will not make it so. For all intents and purposes, the so-called "Council of Jamnia" never happened. It is a fiction proposed by a nineteenth century scholar. There is no historical basis for the claims made about it.
People use it as an argument because they've heard about it. They've read it. But that doesn't make it true. People use it because it's ancient. It sounds credible, but it's not. So next time you hear someone cite the "Council of Jamnia" to support a Hebrew-only Old Testament canon, just remember Heinrich Graetz and m. Yad. 3:5.
Wikipedia articles:
-Council of Jamnia
-Mishnah
**Update**
I tracked down the place where Graetz makes his claim. J.P. Lewis points to Graetz, Heinrich. Kohelet, oder, Der salmonische Prediger. Leipzig, 1871. Unfortunately very few libraries in the United States have this book and my German is poor. But I did find Graetz making the same claim in his History of the Jews, vol. II, Philadelphia, Jewish Publication Society of America, 1893, p.343-4.
Graetz is narrating the events at Jamnia based on m. Yad. and he states, "The second question concerned the holiness of the two writings ascribed to King Solomon, Ecclesiastes (Kohelet), and the Song of Songs (Shir Hashirim). The school of Shammai had not recognized them as holy. This old contest was now taken up by the College of the Seventy-two, which had not approved of the decisions of Hillel, but it is not clearly known with what result. Later on these Halachas were included in the collection (Canon) of the Holy Writings, after which the Canon was completed and several writings in the Hebrew language were rejected as Apocrypha, such as the proverbs of Sirach, the first book of the Maccabees, and several others."
There are no citations or footnotes in the book. Clearly, Graetz is relying on m. Yad. 3:5, but he offers no back-up for his huge claim that the Canon–capital "C"–was established at Jamnia. There is no back-up. Period.